Lightroom Creative Edit – Detail Shots
   Today I'm going to talk about how to edit detail shots using Presetpro's Premium Lightroom collection, The Creative Flow. I'm a writer/photographer with a style blog  Style by Clark Martin where I share my passion for interior design, travel and photography.  I use the Creative Flow when I want to add something special to my photos.  First, let me tell you a little bit about this particular shot. Mondays on my blog I share what I like to call "My Weekend Notes."  Which is essentially a recap of all the fun festivities that happened over the weekend. This week I did a small shoot in my home of a bouquet of flowers that I received. In the world of blogging, we call this type of shot, the details.
   The secret to getting amazing detail shots is having the correct lighting and using an f-stop between 1.8 and 2.5. I arranged the flowers, a coffee table book, a candle and a brass table lamp. I took the shot on an angle from above for a more interesting look. I used my Canon 5D with a 50mm lens and natural light from the windows. My settings were ISO 500,  f/2.0, 1/30sec. I also used my go-to camera setting, aperture priority.  The shot was slightly dark out of the camera, but I was happy with the focus and composition. I uploaded it into Adobe Lightroom and used The Creative Flow for my editing process.
Here are the steps that I took using The Creative Flow
Step 1. I used the Dynamic –Skin Desat ii preset as my base. The Dynamic collection presets are fantastic for balancing out your highlights, shadows, whites and blacks
Step 2. Next, I scrolled down to the Temperature folder and selected "Auto-temp" which is a neat preset that auto corrects your white balance.
Step 3. Finally, I finished off the shot by doing some fine-tuning with The Creative Flow brushes. I used the  "Basic-brighten i"  to eliminate some of the shadows in the flowers and the "Color Brush- Gold i" to warm up the brass lamp.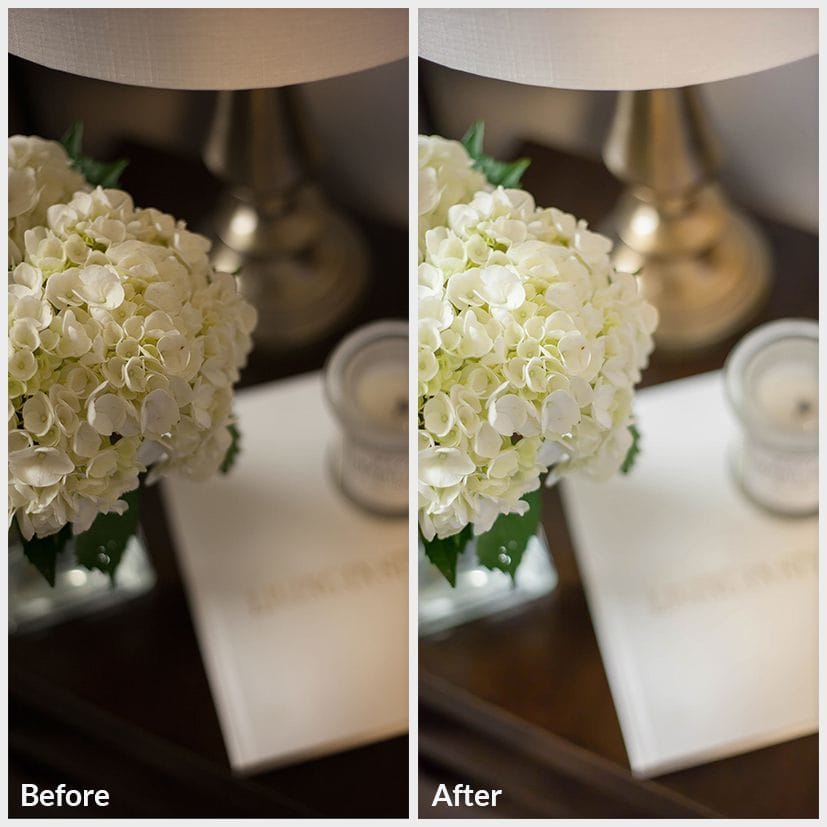 Like many other photographers, I'm always under a time crunch to produce edited photos. The Creative Flow makes my life easier by giving me the tools that I need to quickly and efficiently edit my shots. For more demonstrations of how The Creative Flow can give you the editing freedom you're looking for, see the video below.
Looking for Lightroom Presets? Get the Creative Flow and enjoy over 900 Lightroom Presets & Creative Brushes: The Creative Flow is the ultimate workflow and premium preset collection by Presetpro. The Creative Flow is your own personal preset "tool box" where you can swap out tone curves, change base settings or easily color tone your image with a few simple clicks. When you purchase the Creative Flow you get all of our premium collections (at a discounted price) plus the Creative Flow workflow and Creative Brushes. Enjoy the power of 900 + Lightroom presets integrated into one simple and easy to use workflow! The Creative Flow works with RAW and JPEG images and will run in Lightroom 4, Lightroom 5, Lightroom 6 and the Creative Cloud.